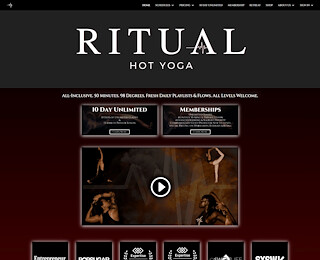 Individuals who are dedicated to the practice, say hot yoga has all sorts of advantages. The main benefit is detoxification, because heavy sweating is believed to help you get rid of toxins from the epidermis. The heat additionally enables you to go a bit more deeply and easily into the postures. You are warming up the muscles and also you are able to address the postures from a secure place, along with working in a warmed room additionally elevates the heart rate, making the body work harder. It is really for individuals who would like a far more intense workout and for people who wish to have tone, flexibility, and strength, in addition to a cardiovascular workout. Ritual Hot Yoga provides all of these benefits with our professional yoga classes.
At Ritual Hot Yoga, we are referred to as the number one rated yoga studio that was founded on the premise that a clean and spacious work out studio is key for the best results that can be attained from hot yoga. Our classes are all inclusive, and you will be provided every comfort in order to make your work out pleasurable and effective. We provide warmed mats, clean and fluffy towels, bottled water, along with beautiful and roomy showers that include several types of beauty products that will complete your yoga routine. We have fifty minute classes available in both our our conveniently located studios, and your membership will enhance your benefits.
Although hot yoga classes have grown in recognition throughout the years, a number of people might discover that private lessons tend to be more attractive to them. Unlike basic classes, private lessons are actually a one on one experience with a teacher. Private lessons are able to result in improvements to one's physical and mental wellness their spiritual well being, and help one achieve individual yoga goals. Many of our newer students feel somewhat intimidated in our group classes, as they may not be able to keep up the pace, and taking advantage of private lessons may help.
Private yoga lessons likewise offer pupils the capability to concentrate on their personal interests, goals and concerns. Rather than following together with the yoga teacher in a class environment, a private lesson allows a person to establish plans and goals which are individualized, such as goals for flexibility, meditation or strength. A teacher tutoring in a private setting, takes the information about the yoga practitioner's goals, as well as produces a personalized routine. We offer private and group yoga routines, so the choice is totally up to each persons' preferences.
If you would like to learn more about the benefits of hot yoga, Ritual Hot Yoga would like to invite you to visit our website. At ritualhotyoga.com, you can find out about the different types of memberships we offer, and which one is right for you. On our home page, you can send us an email, along with any questions. You can also simply call us at 415.549.6984, and speak with one of our friendly and knowledgeable team members.
Ritual Hot Yoga
(415) 619-8282
586 6th Street, San Francisco, CA 94103
View Larger Map