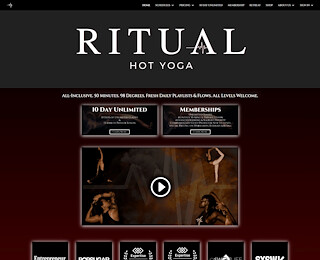 To practice yoga in a warmed up room increases your pulse rate and metabolism, allowing your blood vessels to be adaptable and making your body burn some major calories. This in turn, makes circulation easier and raises blood flow to the limbs. Hot yoga is actually impressive for losing weight, because you are going to most likely sweat like never previously. Like other yoga, it is going to build muscle tone, and it'll additionally enhance the lymphatic system and then flush out toxins. It is impressive for developing confidence in the face of obstacles and distress. With Ritual Hot Yoga, you can experience the benefits of hot yoga in San Francisco that will enhance your overall well being.
At Ritual Hot Yoga, we are considered the leading yoga studio that provides the most comprehensive and effective hot yoga in San Francisco, and throughout the area. When you decide to join us for our amazing class, you only need to bring your light weight and breathable favorite yoga clothes, because every thing else is provided to you, and is included with your membership. If you're not sure whether hot yoga is right for you, we will be happy to give you a preview of its benefits, by providing you with a complimentary 15 minute private introduction. After this, you can decide if it's what you were hoping for, and then decide which membership would be best for your needs.
Our unique hot yoga classes go above and beyond when it comes to relieving stress and building inner confidence. This practice is the true definition of "mind over matter." The endorphin rush you receive after completing our fifty minute sweat session will leave you feeling like there's nothing you can't accomplish. You will leave here feeling refreshed, relaxed and with a new found feeling of confidence that will follow you throughout the day. We highly recommend that you stay on task, and perform your routine with us at least three times a week. Because our classes are less than an hour to complete, you'll have the time to fit us into your schedule.
We highly suggest drinking two to three liters of water during the day. You'll undoubtedly sweat much more during these sorts of classes than in many other types of working out, therefore it is extremely easy to become dehydrated. It's incredibly essential you drink a lot of water before, during and after your session, and if you are just starting out, we recommend that you drink extra water for the first few days before your first scheduled class.
If you would like to learn more regarding the benefits of our hot yoga in San Francisco, Ritual Hot Yoga would like to invite you to visit our website. At ritualhotyoga.com, you can find out more information, by reading through our FAQ page. You can also send us an email, and includes any questions you may have. You can also simply call us at 415.549.6984, and speak with one of our friendly and knowledgeable class instructors.
Hot Yoga San Franciso
Ritual Hot Yoga
(415) 619-8282
586 6th Street, San Francisco, CA 94103
View Larger Map