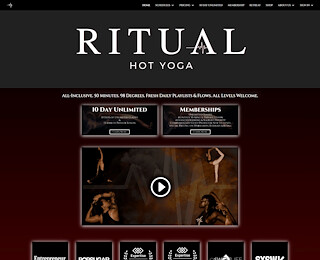 The Eastern practice of yoga has turned into a modern day sign of peace, well being and serenity in the West. Over twenty million Americans practice yoga, with practitioners spending much more than ten billion dollars a year on yoga related products and classes. The mind body practice is often promoted for its power to minimize emotional stress and enhance well being, though additionally, it provides wide ranging physical health advantages that will rival other types of physical exercise. Even though the scientific exploration on yoga's health advantages is still new, yoga in San Francisco is extremely prevalent. Now, people from all around the Bay Area are discovering that Ritual Hot Yoga offers even more healthy benefits to take advantage of.
At Ritual Hot Yoga, we offer far more than the just the benefits of basic yoga in San Francisco, and as our comprehensive hot yoga sessions become more widely known, many people are enjoying a higher level of confidence, strength, endurance and overall well being. Our hot yoga classes are an all inclusive experience for our students, meaning that we provide everything you will need in order to get the most out of your sessions. We provide hot mats, candles, bottled water, along with clean, fresh towels and spacious showers that all include many complimentary beauty products that will compliment your classes.
If you move your body through the postures, which have a good deal of twisting, you accentuate the detoxifying affects gained from sweating, by literally cleansing your organs. It's also suggested that the elevation of the core temperature during class might also develop a healing response in the entire body, maybe in the exact same way a fever creates an immune healing response when battling illness. A lot of our students typically tell us they suffer fewer colds, have much more vitality and feel a lot more emotionally strong than they did before starting out. Hot yoga has been proven in creating these perks for those who make good use of it.
Hot yoga practice harmonizes the nervous and endocrine, or hormonal, systems, the two systems that figure seriously in your mental well being. Hot yoga focuses on spinal integrity and alignment, which eventually helps to eliminate irritation to the neurological communication between the brain and the entire body. Proprioception falls into this particular category, your power  to find out exactly where your body is in space. As you spread your toes, electrons travel from the brain, through the central nervous system, to the tips of every toe. With time, the task becomes more effective, but additionally the richer the detail becomes of your body's map held in your brain.
If you would like some additional information regarding hot yoga versus basic yoga in San Francisco, Ritual Hot Yoga would like to invite you to visit our website. At ritualhotyoga.com, you can send us an email, along with any questions you may have. You can also call us at 415.549.6984, and speak with one of our friendly and knowledgeable staff members.
Yoga San Francisco
Ritual Hot Yoga
(415) 619-8282
586 6th Street, San Francisco, CA 94103
View Larger Map